What is Telegram App and how to download?
There will be many people among you who must have used Whatsapp but perhaps you do not know about what Telegram is. Yes friends, just like Whatsapp, Telegram is also a messaging app.
You can use it to chat with your friends and relatives just like Whatsapp. But there are some features in it that make it better than Whatsapp.
By the way, the functions of Telegram messenger are almost like all messengers, but people like it more for some features and more security.
Where earlier Whatsapp used to charge $ 0.99 for using its services, Telegram is free from the beginning and will always be so, according to its founders. It would not be wrong to say that Telegram has given a new direction to the world of instant messaging.
Where there used to be some limited features in Whatsapp, then Telegram has given a tough competition to Whatsapp by coming in the market. It has become more popular due to its excellent features. That's why I thought that why don't you people get complete information about what is Telegram apps and how to download it so that we have the option in front of us so that it is easier for us to choose the better one.
Then without delay let's start and know more about what is telegram and how to download telegram app.
What is Telegram
Telegram is a could-based instant messaging service. This is such a Messenger through which you can chat online with your family and friends.
Like you do in Whatsapp Messenger. You can say that this is a very big alternative to Whatsapp. It is available in all platforms such as Android, IOS and Telegram for PC etc.
Telegram is very easy to use, reliable and safe and secure as compared to its competitors.
Telegram is an Instant Messaging and Voice Over IP (Internet Protocol) service (Mobile and PC App) based on Cloud. Here Cloud means that the data of your Telegram App is stored in Telegram's server instead of your device.
There are many features in Telegram that differentiate it from others such as Telegram Groups, Telegram Channel, Telegram Bots, Telegram Stickers etc. This was a little information about telegram app info. Stay tuned with us for more such great information.
So let us now try to know further about all these features.
History of Telegram
Do you want to know who is the inventor of Telegram? If I talk about the history of Telegram Messenger, then Telegram was first launched in 2013 by two brothers Nikolai and Pavel.
If I talk about their earlier achievements, then both of them had previously launched Russian social network VK, later they left VK when it was acquired by Mail.ru Group.
While talking about Telegram, Nikolai Durov has created the MTProto protocol, which is the basis of the messenger, while Pavel provided financial support and infrastructure in this project from his Digital Fortress fund, in which he is a partner of Axel Neff and who Later he also became his second co-founder.
Telegram Messenger says that their main objective is not to make profit, so they have made it like a non-profit organization.
If I talk about different platforms, then Telegram was launched on 14 August 2013 for iOS and on 20 October 2013 for Android Phone. It is more liked by Android users than iOS.
Telegram App belongs to which country?
There was a time when people were asking a lot about the question of which country the Telegram App belongs to. Because at that time someone had run a nasty campaign in Whatsapp that "Whatsapp" is not an Indian App and Indians should use Telegram Messenger because Telegram is completely Indian.
People accepted this news without thinking and started uninstalling Whatsapp and installing Telegram in its place. Later it came to light that it was a well-planned conspiracy to destroy Whatsapp. As a result Telegram became more popular in India in a very short time.
Now let's know the true story of Telegram in India. Telegram's team (Office) is currently located in Dubai, but Telegram App is from Russia. Telegram team had to leave Russia due to some local IT regulations. Before going to Dubai, he had tried many places including Berlin, London and Singapore.
Whereas for your information, let us tell you that even though both of those brothers are from Russia, but still they both made their non-profit company in Germany, so officially it is a German company.
Some Security Features of Telegram App
As I have already told you about some features of Telegram App, yet let us know about some other important security features of it. From this you will know why Telegram Messenger is such a secure app.
Secret Chat: – It has the facility of secret chat, where you can destroy your chats when your conversation is over and if you want, you can also delete them automatically, for which you have to set a time. It happens.
Encryption: – Where there are only 2 layers of encryption in other messaging apps, Telegram has 3 layers of encryption which makes it more secure than others.
Password: – You can set password on this App here.
Protocol: – Telegram uses MTProto protocol to encrypt the data of its users.
It can be used simultaneously in multiple devices.
Apart from this, there are many other features like Cloud data storage and end-to-end encryption by request etc.
How to download Telegram app?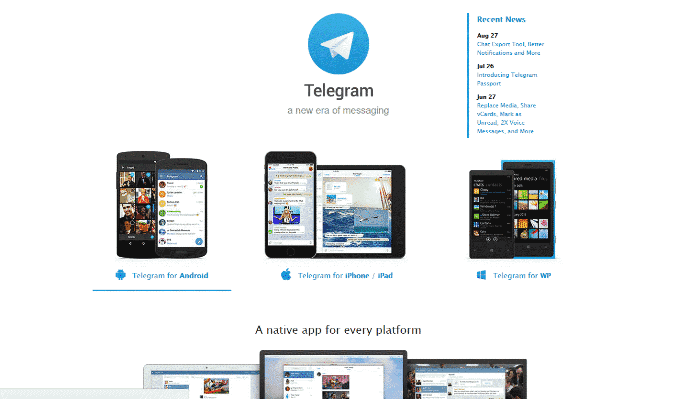 Do you want to download Telegram Messenger? If you want to download Telegram Messenger on your mobile or system, then first you have to understand in which platforms this app is present. By the way, this Android, iOS, Windows. Whereas below we have provided Telegram App Direct Download Link.
Available in Web-version, Linux, Desktop etc.
Mobile app – Talking about Mobile Versions, then you can download the Telegram app from Android's Playstore, iOS's AppStore and Windows' Apps.
Desktop App – In Desktop also, you can easily download software for its Windows, Mac and Linux by visiting its official website. Let us now know how to download telegram download for pc.
Telegram Web – If I talk about Web Browsers, then you can download and use the web version of any browser. Telegram web version.
One of its great features is that you can use it on multiple devices simultaneously.
How to use Telegram
If you want to create your Telegram Account, then for this you can create it according to the steps given below.
Open your Mobile's App Store like Android's Google Play Store.
Now search by typing Telegram.

After the search is complete, install Telegram.

Open Telegram after it is installed.

After opening Telegram, click on Start Messaging.

After that select Country (India) and write your Mobile Number from which you want to create your account and click on Right Tick.

After that a message will come on the mobile number you wrote, in which a code will be written.

Now write that code and click on Done tick.

After that write your full name and click on Done tick.

Now your Telegram Account has been created.
If you want to create your Telegram Account from Pc, then first you go to Telegram's website. Then according to the operating system of your Pc, download the Native App by selecting it and then create your account according to the steps given above.
What is Telegram channel?
Like other applications, Telegram Channels is a very important reason why most people download and use Telegram.
From these channels, all users can easily read news, watch analytics, learn investing strategies and get good information.
Nowadays Telegram Channels have become a very good place to get maximum information on a particular topic. It is better than internet, Facebook pages and even Instagram pages in terms of knowledge.
Because here you get researched information in abridged form. For which you do not have to waste much time in research. Especially for this reason Telegram Channels is a very best feature of Telegram Messenger.
How many types of channels are there in Telegram?
Telegram Channels are mainly divided into two types according to their users database: –
public channels
private channels
Public Channels are those channels which have a username. Anyone can search for them on the Internet and can also join.
Private Channels are those channels which are generally not open to the public. These are often closed societies. That's why it is impossible to find them on the internet and they can be joined only by invite link or if the admin wants.
Features of Telegram Channels
By the way, there are many features of Telegram Channels, so I have categorized them well so that it will be easy for you to understand them.
Channel Icon and Description
It helps you to set a square image like a channel icon which helps to identify a Telegram channel. You can also add description to your channel. You can also add a link to this description section.
Whenever you want, you can easily change the icon and its description by going to the channel setting.
Public or Private Channels
There are two types of channels in Telegram Messenger; Public and Private.
Public Channels are those that have a username. Anyone can get them by searching in telegram and can also join. They can also be easily found on the internet.
Whereas Private Channels are those channels which are not open to all. Often these channels belong to closed societies. Here you can join only when the creator adds you or you get an invite link to join.
Unlimited Members
There is no restriction on the joining of members here. Anyone can join your channel with the help of public or private links. Telegram will never warn you for member counts.
If a new member joins your channel, then he / she can easily read all the messages that you or any admin posted from the beginning of the channel.
Notifications
By default, all members get notification when you publish some post in the channel. And if you do not want to disturb your members then you can enable silent broadcasting while broadcasting by tapping the notification bell.
Share large size files
You can share files in a channel like images, videos. Documents, compressed files – ZIP, RAR, EXE etc. You can share large file sizes up to 1.5GB.
pinning post
If you want to show any important message to your new as well as old members, then for this you can pin that post.
With this, that pinned message will always be displayed at the top of your channel. Often announcement or important updates are pinned in the channel.
What is the Advantage of Joining Telegram Channels?
Since Telegram Channels are categorized according to their niche, therefore, by joining them, you get information only on the same interested niches.
Here I will provide you information about some advantages when you join any Telegram Channels:
With this you can share your knowledge and ideas with others.
With this you also get to learn a lot of new things.
Since there are no ads here, you do not get anything other than content.
You do not need to waste your precious time and you get information on your desired topic.
It is also good for advertisers because they get targeted people in one place.
For business promotion.You can interact with many people and learn a lot from them.
It is productive for small companies, where they can discuss their ideas and future plans.
With this even big companies can know the opinions about their products.
It can be used for fun purpose.
What is Telegram Group?
Like any other groups, Telegram Groups are a great tool to create communities. Where group members can communicate with each other.
Like in Family groups, members can share their photos, videos, Gifs, documents etc. and can also communicate with it. Official groups of companies can discuss with their team members and boards about their plans, business and other necessary things so that they can comfortably coordinate for their work.
The best thing in this is that you can create a group with up to 100,000 members.
Nowadays these Telegram groups are a very good place to get information and knowledge. Because there are definitely some experts here who definitely help you when you ask questions.
Types of Groups in Telegram
Here Telegram groups are mainly divided into two parts according to their members: –
Basic groups are those groups where the maximum number of members can remain only up to 200. It is very ideal for small small teams, family groups because here they can easily share anything with their friends, family and other team members.
Group chats are also available in Telegram in English. And by default anyone can add anyone and change the name and photo of the group.
Supergroups are those groups where the maximum number of members can remain up to 100,000. You can guess from its member size that it is only suitable for large communities.
Supergroups have been designed and optimized to host large online communities so that they can load easily and quickly, even if some messages are missed, you can read them later. They provide more advanced admin tools to admins and other members.
Hint: If you want to do something very interesting and want to make it popular as soon as possible, then I would like to advise you to create a Channel instead of Groups. This is because Channels are a great tool to broadcast public message to large audiences, and its biggest advantage is that you can join unlimited subscribers, which is not possible even in SuperGroup.
Features of Telegram Groups
Although there are many features of Telegram Groups, but to explain you properly, I have categorized them.
Replies
If you have to reply to a specific message in a group chat, then for this you simply have to swipe left, and type your text and then hit 'Send'.
With this you can easily respond to a specific message. Once you reply, that person will get a notification about your message.
Mentions
If you want more people from your group to be a part of this ongoing conversation, then you have to mention them in the message. With this, they will easily get notified about your message. When you have new replies / mentions from the group, then you can reach them instantly and for this you just have to click on the new '@' button when you are inside the chat.
This button will automatically disappear when you read all the relevant messages once.
Pinned Messages
If a Supergroup admin has to inform all its members about some important news, then for this they just have to pin that message.
The message that has been pinned by this will be displayed at the top of the chat screen. By doing this once all the members will get notification about that message.
How to create Telegram Groups
If you really want to create a Telegram group in which you want to provide good and useful content to people, then you will have to follow some steps to create a group, about which you will know further.
Since telegram messenger is present in all platforms, so I am going to provide you information about all platforms.
android phone
If you want to create a group in an Android phone, then you must first click on the Telegram app of your phone, then click on the circular icon which has a pencil and is located at the bottom right corner.
After this you have to go to the new group and you can create your favorite group.
Apart from this, you can also use the menu icon which is present in the top left corner and on clicking it you can see the option of "new group". You can create a group by clicking on it.
iOS & iPhone
If you want to create a new group on your iOS device, then you have to go to chats first and then click on that icon which is located on the top right corner of the phone.
With this you can start a new message. After this, you have to go to the new group and click on create a group.
windows phone
If you want to create a new group on your Windows Phone, then for this you have to open Telegram App first and page down. After this you will see a "+" button on the bottom bar.
This button has to be clicked and as soon as you click it, you will see the option of "new group", by clicking which you can create a new group.
If you follow all these steps properly then you can easily create a new Telegram group. After this you can add new members and start group chat.
What is Telegram Stickers?
All of you must have used Emojis before. But due to lack of innovation in emojis, emojis could not become more popular. Whereas Stickers are more advanced and innovative than that.
This is because by using stickers, users can show their emotions in a better way where it is difficult to express those emotions in words.
Telegram Stickers are also cloud based. Like other text messaging apps, Telegram in Hindi also has multiple images which are called Telegram Stickers. By using them, users can show their exact expressions in a better way.
Telegram stickers are always available in one or more sets. With this users can also send multiple stickers simultaneously. Apart from this, a default sticker also comes with the app which users can use.
Or they can also download third party stickers. Once it is installed on the client, this set of stickers becomes available to all other clients as well.
Technically speaking, Telegram Stickers are designed in WebP format. These formats are the most lightweight formats in the present time. Along with this, Telegram also allows custom stickers to be uploaded, and also assigns them to some emojis.
Stickers can also be assigned a relevant emoji, so that it appears in the tooltip of the emoji.
According to Telegram Officials, all the stickers are completely free and will remain so. With this, users can also create and share their own stickers.
What are the types of Telegram Stickers?
Telegram stickers are mainly divided according to their emotions. But to understand them I have catogorized them here.
animals
People
Movies
Cartoon
plants
Games
tech
memes
Others
In these categories, stickers can be divided once more according to their emotions. Someone has rightly said that with the help of Stickers any facial expression can be easily said.
What is Telegram Bots?
According to the official website, Telegram Bots are third-party applications that run within Telegram. Here users send messages, commands and other inline requests to interact with these bots.
Apart from this, if you want to control it more, then for this you have to send HTTPS requests to the official bot API.
As we already know that Telegram is completely Free and Open App. Because of which its code is open to all, along with its API.
Telegram is the first app in the entire Internet which introduced botstore to the people and along with it people also liked it a lot. It did not stop at this, rather it launched a Bot API, through which any third-party developers can create bots using this platform.
With which developers can create custom bots according to their requirements.
I have full hope that what is Telegram to you guys? And how does it work? Gave complete information about and I hope you guys have understood what is Telegram and how to download Telegram app.
I request all of you readers to share the information related to what is Telegram in your neighborhood, relatives, friends, so that there will be awareness among us and it will benefit everyone a lot. I need your cooperation so that I can convey more new information to you.
It has always been my endeavor that I always help my readers or readers from all sides, if you people have any kind of doubt, then you can feel free to ask me.
I will definitely try to solve those Doubts. What is this article Telegram App? And how does it work? How did you like it, do tell us by writing a comment so that we too get a chance to learn something from your thoughts and improve something.
To show your happiness and eagerness towards my post, please share this post on social networks such as Facebook, Google+ and Twitter etc.